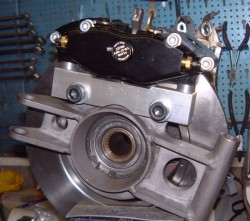 There's still no chassis here, so I've been getting on with other things. i did phone up the powder coating company on Friday afternoon when it became apparent that I might be able to get over to Soham. However, there was no answer so I guess they'd gone home early. Either that or they've gone out of business taking my chassis with them… 🙁
Here's something though, in that I've finally finished the rear brakes. The new taps I ordered arrived and I was able to properly  cut the threads. I did have an experiment using helicoils but, for some reason, I didn't feel confident about it. All the same, I'll keep the helicoiled part as a spare.
That photo above is unique in that the bolts holding the ally block to the upright are actually locktited in position. That is, they're the first bolts that I've done up intending them to remain where they are. Up to now I've been assembling and disassembling. Hopefully from now on I'll be able to concentrate a bit more on the former.
One thing I did manage to do on Friday was to call into the lasercutting place and pick up the parts for my diff mountings, having decided that perhaps the hardboard versions weren't going to work properly. These ones are made from 6082/T6 aluminium which is rather beefier. Actually, they were amazingly cheap really in that this lot cost me about £70 which is pretty good considering that 6082 is of the most expensive aluminium alloys.
Obviously, I need something to hold the diff bearings in those plates and some time ago I designed a couple of plates to do the job. This picture is exported from the CAD system so as to expose things to your withering gaze. I've rendered the mounting plate itself as a wireframe so that you can see the two bearing support plates and the bearing itself.
So, I went to Mackays and bought some big slices of a socking great 5″ diameter aluminium bar and set about them with the lathe. After a goodly while, and a lot of swarf I'd exposed the parts in the next photo. As you can see I've yet to drill the holes through the plates that will bolt them
and the mounting plate all together but that shouldn't be too difficult, especially as I've got the laser cut plate as a template. The only problem is that I've become a bit sensitive about the quality of taps and I don't have a particularly super-duper set of M8 taps so I'll order those before bolting this together.
One minor issue is going to be getting the bearings onto the diff itself. They appear to be pretty tight interference fit and I'm going to have to make some sort of press-arrangement to fit them together. In fact, I should probably put some thought into how I'd take them apart as well, although a pair of large screwdrivers might well suffice.
By the way, those two 20mm holes in the mounting plates are for access to the bolts that retain the sprocket on the diff, many thanks to Adrian for pointing out that I'd need these before I actually ordered the laser-cut plates.