Don't worry, there's only a little French… In any case, my abilities to express myself in French seem to have rather atrophied since I worked in Geneva. Not that they were much good then really.
In any case, you might wonder why I'm wittering on in French. You may remember from other discussion here (in particular about escapades at Spa) that Colin and I occasionally make a European foray. This time we had booked ourselves onto a track day at the Dijon circuit in France. Like Spa, which isn't actually at Spa but at a little place called Francorchamps the circuit at Dijon isn't actually at Dijon but at a little village called Prenois. The circuit, though, is forever associated with the last laps of the French GP of 1979 which had Gilles Villeneuve and Réné Arnoux in a tremendous tussle for second place. (Without looking at the link, and if you're a racing fan, can you actually remember who won the race?)
Of course, we don't get a French GP any more as that doesn't fit with Bernie's plans and we have suffer the tedium of places like Abu Dhabi and Shanghai instead. The circuit, though, is still there and the rather entertainingly named French track day company Pole Passion use it frequently in their schedule.
So, we had booked ourselves onto a track day at the circuit on a Wednesday and we spent the rest of the week in France doing a lot of cycling and quite a lot of eating a drinking. It's no coincidence, though, that in this photo Colin's wine glass is empty and mine isn't…
The track day itself, though, was great. There were a lot of things like Porsches there and just a couple of prototype style cars. The track was pretty empty and most drivers were very accommodating of we rosbifs and our funny plastic cars which were mostly a lot quicker than theirs. There was also a lot of good humoured conversation in the paddock in fractured English and French about moteurs motos that we were using.
The circuit itself was superb; quite like a bigger and faster set of Craner Curves. Once up to speed it really flowed in a very pleasing manner. Here's a couple of laps from early in the day. (I got a lot quicker than this but unfortunately forgot to turn the camera on properly…)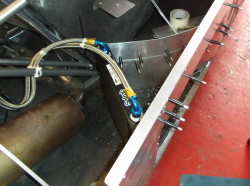 Before going to France I'd fitted a much larger oil cooler in an attempt to get the oil temperatures under control. In Dijon they did drop a but, but not by enough.
I decided to try and address this before the next outing by modifying the ducting slightly, so as to make it a but more like the water radiator. To cut to the chase, though, that wasn't really hugely successful although it was a lot better. I suspect the big problem really is that the radiator exit is compromised by the exhaust system which is just behind, as you can see in the photo on the right. I need to have a think about this now.
All the same, getting back on track, once back in Blighty we readied ourselves for the next RGB race. This time it was at the Silverstone International circuit. Although, following the naming convention discussed at the top it should perhaps be renamed as Northampton International. I think I prefer Silverstone really.
This circuit is the "back end" of the GP circuit and is based in the "Wing" that is used for F1. This might be great for F1 but it's a long way from ideal for a 750 Motor Club meeting. The F1 boys only have 24, or something, cars and we had hundreds. For example, the only toilets in the paddock are actually in the pit garages. Hence, the unedifying sight of people wandering down the entire length of 40 garages looking fruitlessly for an empty  one…
I'd booked the test day, although in keeping with the duff paddock arrangements we were given the duff timetable of 4 x 30 min sessions. 30 minutes might be fine if you've got a huge pit crew but it's bloody useless if you're on your  own. As it turned out, it was really only three sessions as the last one was made up of two laps and three red flags… I'm not entirely sure how dim you have to  be to spin off at the first corner on your out lap but quite a few people managed it.
Before going to Silverstone I'd decided that a lap in the 1:12s would be nice as a starter. However, on the test day I only got down to 1:14.4 which was rather disappointing. Mind you, there was a lot of traffic but it was clear that the main problem was me, and in particular just not being aggressive enough on the brakes, in particular into Stowe Corner. The other main observation from this first was that this circuit was a sort of after thought. In particular, the "link" where you cut across to the start of the Hangar Straight has a HUGE bump in it. Position the car wrongly and you're toast as you lose traction, just at the start of the fastest bit of the circuit.
I'm also not convinced that I'd got the gearing right. I only got into 5th on the test day (although that changed later). I'm almost convinced that I should have sacrificed top speed for a bit more driveability on the twistier bits of the circuit.
After the usual super night's sleep (I always seem to sleep well at race circuits) I woke on race day needing a rather better lap than in testing. I'd strapped on some decent rubber for the last test session but, as I mentioned, spent most of it in the pit lane. As it turned out I went a little faster, 1:14.2, but still nothing like quick enough. Mind you, I do seem to be going quicker every time I go on circuit so that's a good sign. This was a new circuit to me after all. The qualifying times were only good enough for a miserable 14th and 16th on the grid (out of 30). Come the first race and I got a pretty miserable start. There wasn't really very much action but I managed to withstand a couple of late lunges from Adrian late in the race to finish in 12th place. Fastest lap, though, was 1:13.6. Still .6 off where I'd wanted to be but it was getting better.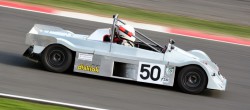 I did have a conversation with Marcus Pye (Autosport national race editor, or similar) in the evening where he reckoned that my car was running rather nose up. At the time I thought it was because of the raised nose but, looking at the various photos such as the one here, I think he might well be right. You could hardly accuse him of being a naïve observer of race cars. As usual, thanks to Afghan Dan for this photo.
I tried to address this for the next day by just winding up the front push rods a bit. Problem is, I don't know what's causing it? It could be drag from the raised nose lifting the front or it could be decent downforce at the rear pushing the car down. More instrumentation is clearly needed.
Back to race 2 though, and a rather dismal tale. The race was marred by a rather big crunch at the first corner. I got away mostly scot free but there was a lot of GRP around the track afterwards and several cars didn't make the restart. Once going the race was pretty eventless. However, right at the end I got slightly tangled with Austen and, even though it meant nothing for the points as we're in different classes we had a bit of fun. Annoyingly, he beat me to the flag by 0.09 seconds… Best bit was that the fastest lap was 1:12.96 so I'd made my target by four hundredths.
Here's the video of the entire race:
So, probably some time doing a more careful set up of the car before the next trip out to Cadwell. This is the last RGB meeting of the year and should be fun. I'm keeping my fingers crossed for another couple of dry races and this very narrow and potentially slippy circuit.