And so we get to the end of the 2017 season. To be honest, I think there's a chance that this will be my last season but I'm going to carry on preparing the car over the closed season anyway. In the meantime, how did we do in the Birkett you ask?
Well, it was a bit mixed. I was encouraged during qualifying when I managed a lap that was over a second quicker than I'd gone last year. Given that Birkett quali isn't about track position, it's just about doing the laps that you're required to do that was nice.
I was down to do the start. This year, as recently, it was an "idiot proof rolling start". As such, it was quite easy to do. We were starting in 9th place and after the first lap I was up to 6th which was quite fun. On the second race lap I set what was the team's fastest time all day with a lap that put me in 16th place in the fastest laps table out of about 300 drivers. Then it all went to pot; see the video:
To be honest, I might have come from a bit far back, but the essence of the Birkett is that you have to be aware of other cars on the track and it's clear that the driver of that Civic wasn't. That he then went into the pitlane and blocked Colin from getting out of our garage tells you all you need to know.
You might have noticed a large Mercedes saloon in that video going rather slowly. That was driven by Chris Harris who presents, so I'm told, Top Gear on the Beeb. There was a complete Top Gear team here doing their thing. Thankfully without getting in the way too much. Apparently, they're going to be on the TV soon, don't know when though… Yes, you're right, I'm not a fan…
The problem is that Colin then munged a driveshaft and we cocked up the driver change and we were then down to about 38th place. Not good.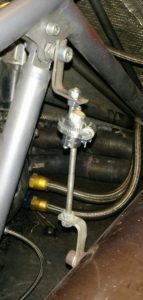 Back in the paddock a crowd of people descended onto my car to see what needed fixing. There was a fair bit of bodywork damage, including the hole that you can see above, and a collection of bent bits and a broken exhaust support. We managed to rivet the various bodywork fasteners back in place and unbent things with the aid of the odd beefy foot. The biggest problem was the exhaust mount which was fixed, mainly by Roger and Gary, with the aid of the two broken bits of studding, a random bit of aluminium and a jubilee clip! See the photo! They assured me that it wasn't going to fall off and, indeed, so it  turned out.
Someone also modified the bodywork as in the  photo at the top. A sound sentiment I think… So, I was good to go back out. Here's the video:
As you'll notice there's a lot of traffic on the track and I didn't get back to the same sort of times. What's more, the car didn't seem right. I now think that this was just because the gaffer taped bodywork was collapsing and rubbing on the right rear tyre. All the same, I got us back  onto the first page of the timing screens. Most importantly, the car didn't fall to bits!
Later on I went out again for my last session of this Birkett. Again, the video:
After that, and the similar efforts of Colin (who'd managed to replace his driveshaft) Jason and Jonathan we ended up in 12th place which was a bit of a triumph considering the crap start we'd had.
Most of all it was great fun, as usual.
The car is now back in the garage again and I'm thinking about what to do to it. Back soon…